Weddings
Getting married at the Vineyard
Congratulations! Since you're reading this, you've probably met someone special, have grown to love him or her and chosen to marry each other. The Vineyard Staff and Pastoral Care Team celebrate with you! Nothing compares to being engaged! Enjoy this time of preparation as you begin to share even more of your hearts with each other.
And through Vineyard Cincinnati's premarital process, the Pastoral Staff desires to give you the most valuable wedding present they can: a loving, lasting investment in your relationship as you get ready to make this commitment to one another. Attending all of the classes in a Premarital Series and meeting with a mentor couple are REQUIRED for those wishing to be married in our Chapel or by a Vineyard pastor.
Please download and review all the information in the Wedding Information Packet (PDF). It should answer any questions that you have regarding offsite or weddings here at the Vineyard. A Vineyard Cincinnati wedding, either on-site or off-site, be sure to complete and return the Wedding Application Form (PDF), which will provide us with some important information about you. Here's a list of our Musicians for Weddings.
Our goal is to assist you in making this a memorable, growing and inspiring season of your life. We want to help you build the spiritual, relational and logistical foundation for your future life together. Let me know how I can be of further assistance to you once you've had the opportunity to review this information.
Wedding Scheduler
(513) 671-0422, Ext. 412
fax: (513) 671-2041
weddings,,
YouVersion
A free Bible on your phone, tablet, and computer.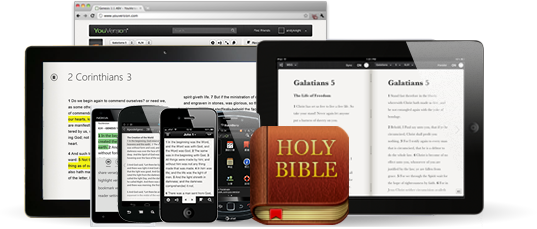 YouVersion is a simple, ad-free Bible that brings God's Word into your daily life. With hundreds of versions, reading plans and study tools, it has become a regular resource for millions of Christians.